The Nursery is a place where babies and toddlers can feel safe and experience God's love through the love of our leaders. Nothing is more important for a young child than beginning to understand who God is and how much He loves them. We have two nursery set ups: Infant Nursery & Toddler Nursery.
Calm cuddles and safe learning environments are the norms for sharing God's love with our babies. Our Infant Nursery is for ages 6 weeks to your 2-year-olds (by Sep 1st).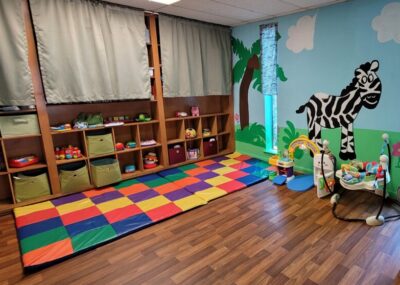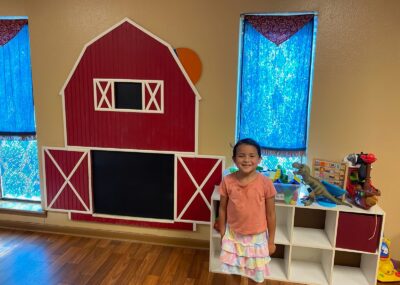 Our Toddler Nursery is for 2-year-olds (by Sep 1st). If your child is not potty trained, they will stay in this Nursery also, close to changing tables and amenities.
Please label all personal items with your child's first and last name before arriving in class.
In a small diaper bag, please include the following:
Two or three disposable diapers
A complete change of clothes
Pacifier or other item, should your child need it for security
A bottle of milk, formula, juice, or water (a good practice even for babies being nursed)
Diaper wipes
Snacks:
We offer Goldfish and cookies as snacks. If your child has an allergy, please let us know. We do not offer peanuts or products made with nuts and ask that you do not send anything with those contents due to potential allergies with other children.
What happens if my child cries after being dropped off?
If your child cries for more than 15 minutes and cannot be comforted, you will be contacted at the cell phone number listed at check-in. You are welcome to view the nurseries on the four camera monitors in the secretary's office to observe your child without being seen.
Wellness policy:
For the protection of all children, our ministry must decline admission to children with the following symptoms: fever, rash, persistent cough, diarrhea, matted eyes, and any other signs of illness. Thank you in advance for helping us keep our nursery a healthy place for all.
New to Sterling Wood? Take a guided tour!  We would love to meet you and show you around. Schedule your visit below.