We don't want to just stop at reaching our community. At Sterling Wood we are also involved in Global Missions. Here are just a few. Feel free to contact us if any of these interests you!
Guatemala Mission Trips/Support
Sterling Wood Church partners with a non-profit, Christ4Guatemala, to sponsor mission trips to Guatemala where we build stoves and host children's Bible schools and medical clinics.  We provide financial support for a young Pastor and a new church plant. We also sponsor secondary education for children.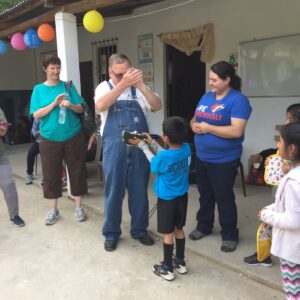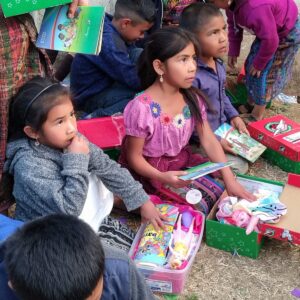 Operation Christmas Child
Another annual event is our toy drive for Operation Christmas Child so that every child has a Merry Christmas!
At the end of the year we try and support the international missionaries around the world by funding the Lottie Moon Christmas Offering for the International Missions Board each Christmas.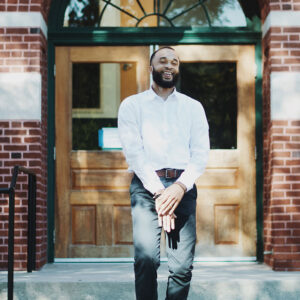 Anonymous, January 31, 2023 - 2:50 am
Prayer for God's creatures to have safe warm shelter, food & good health. Prayer for a new home where my pets & I may live in safety, contentment & comfort without being oppressed, bullied, threatened, traumatized, vandalized & victimized. Prayer that I will be healed in all ways; I am elderly with autism.
Devi Barnes, January 21, 2023 - 2:25 am
If you guys would pray for me, it seems like I don't know if I'm coming, or going. I believe in my heart that God have something for me. Seems like right now. Everything is a bit foggy. I'm doing my best to get beyond the fog. But it seems like sometimes it is very dense. I know if I can just get through this I know that God is going to do something big.
Anonymous, January 6, 2023 - 6:27 am
Anonymous, December 12, 2022 - 8:08 pm
Hello my mom lives in winterille nc me in texss because i was in tjr military. My mom and i as well as my twin we tslk everday 4 or more times a day. Its been 5 months and she acts crazy and foolish now. Someone told my sister and i someone put a spell on her as well as vodoo please pray for my mom that the spell black majic be taken off her i miss her she is very diffent
HP Kropf, December 1, 2022 - 1:33 pm
Dear Church, A good friend of mine, Adan Hernandez in Chicago, is suffering badly from lymphatic cancer. He was diagnosed with stage 4 six months ago and just had to be admitted to a hospice because his health has deteriorated so badly. Please help me pray for him. Thank you and God bless you all. HP
Ramiro Ortega Jr, November 29, 2022 - 5:56 am
In need of prayer for my dad Ramiro Ortega Jr, today we went to the Dr. and they told us he had a cancerous tumor on his liver and there was little to any treatment they can do to him, please help me pray for his healing because there's nothing impossible for GOD and we're waiting on a miracle