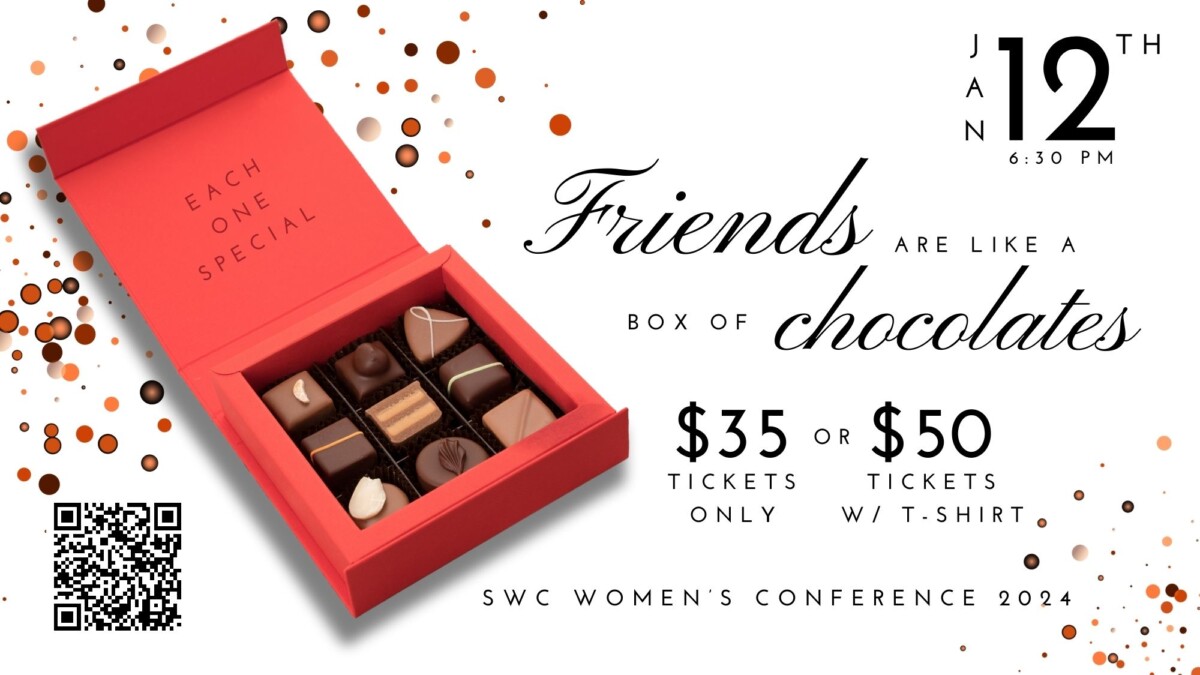 Ladies Conference
Calling all ladies! We welcome you to join us on January 12th-13th for our Ladies' Conference 2024: Friends are like a box of Chocolates!
We all need friends. We crave true godly friendships. The kind of friendship that takes time to develop, mutual admiration, trust, genuine respect, honesty, accountability, generosity, freedom, understanding, and history.
Vision: Ladies getting to know each other and encourage each other in the Lord, for new friendships to start and others to grow deeper.
It will be two days of fellowship, fun, and powerful testimonies! You don't want to miss out! Bring a friend!
Tickets ONLY are $35 per person.
Tickets + Swag are $50 per person (Swag is a SWC Ladies t-shirt and tote bag).
For those who want to purchase tickets in person, we will be selling tickets once a  month on the last Sunday of the month.
(Sep 24th, Oct 29th, Nov 26th, Dec 31st)
Schedule: 
January 12th (Please eat dinner before you arrive, childcare will be provided)
6:30 pm – Icebreaker6:45 – Worship7:00 – Intro7:20 – Ch. 1

7:40 – Worship

8:00 – Ch.2

8:20 – Break

8:35 – Small group break out (Ch. 1 and Ch.2)

9:00 pm – Closing
January 13th (Eat breakfast before you come).
9:00 am – Ice Breaker9: 15 – Worship9: 30 – Chapter 39:50 – Worship

10:10 – Ch. 4

10:30 – Break

10: 45 – Ch. 5

11:05 – Small groups Ch. 3,4, and 5

11:45 – Lunch  (Chick-fil-A boxes )

1:00 pm – Craft (Mosaic Cross)

2:00 – Icebreaker

2: 15 – Ch. 6

2:35 – Worship

2: 50 – Ch. 7

3: 10 – Break

3: 25 – Ch. 8

3: 45 – Small group Ch. 6,7, and 8

4: 15 pm –  Closing